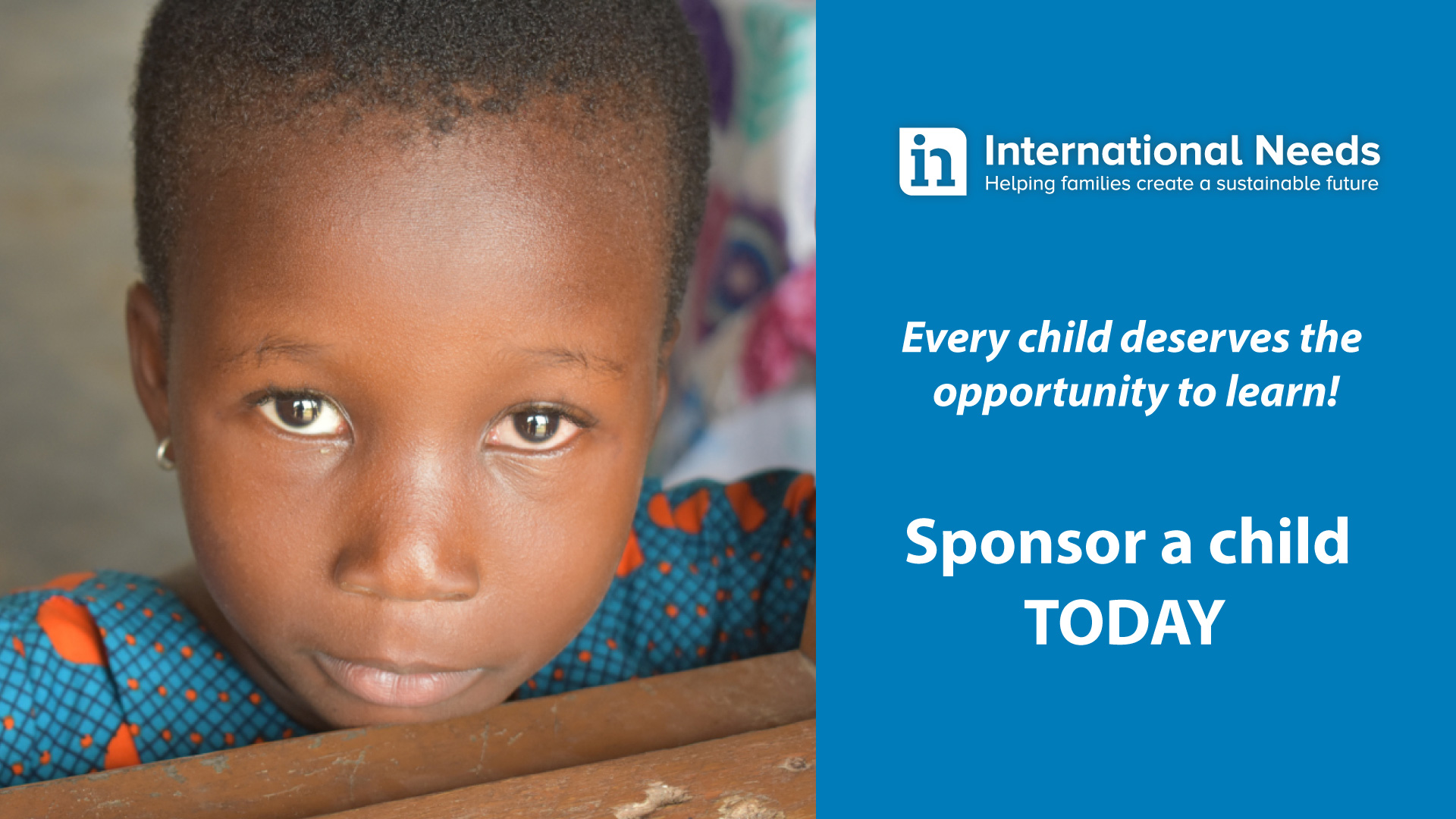 YOU can make a difference in a child's life. You give the opportunity to learn and pursue a future to a child who is in need.
Sponsorship provides a platform for the spiritual, physical, and emotional transformation of a child. By sowing into their education, a foundation is created to further expand each child's dreams and impact their families and society.
Help us reach the goal of sponsoring 50 children.
Questions? Give us a call at (616) 209-5420 or email us at sponsorship@internationalneeds.us. We would love to help!
When you sponsor a child, you make amazing things possible!

School
You make it possible for your child to go to school and have the supplies he or she needs to focus on learning!

Food
Your child eats a healthy meal or snack at school so he or she can grow physically strong! Details vary by country.

Gospel
Your child learns about Jesus Christ! This gift impacts your child's life now and for eternity!

Love
Your child knows he or she is dearly loved by God and by you. This gives hope!
Frequently Asked Questions
In which countries does International Needs have child sponsorships?
International Needs USA sponsors children in Bangladesh, Colombia, Ghana, India, Kenya, Nepal, Philippines, Uganda, and Zambia.
Why do these children need sponsors?
In countries where we have sponsorship programs, children live in poverty with no way out. In poverty, parents give birth to children. In poverty, those children grow up without an education or proper nutrition. In poverty, these children become adults, have their own children, and the cycle continues. Child sponsorships put an end to the cycle of poverty by focusing on areas affected by poverty: education, nutrition, and health care.
International Needs sponsorships are intentionally designed to promote self-reliance, not dependency. Sponsorship gives children the tools they need to break out of the cycle of poverty. A good education helps them to get jobs as adults so they can provide for their families. A nutritious meal each day battles malnutrition, which is so rampant in areas of poverty. Basic medical care protects them from childhood diseases so they can grow up healthy. Sponsorship includes participation in Bible programs which share the good news of Jesus Christ, and many children make a decision to follow Jesus Christ through their involvement in the sponsorship program.
What is involved when I become a child sponsor?
When you begin sponsoring, you receive a color profile of your child, with a photo and some background about their life. You also receive a sponsorship packet in the mail, which includes details such as different giving plans, ideas for communicating with your child, and other helpful information.
We work to provide you with at least four communications per year from your child. Usually this is a letter or drawing from your child. You will also receive an updated color photograph regularly, so you can see how your child is growing and flourishing.
An important aspect of your sponsorship is the relationship you develop with your child. Children who live in the midst of poverty often feel forgotten, insignificant, or unimportant. Your letters and prayers remind them that they are God's children and that they are of infinite value to their Lord and Savior.
How much does it cost to sponsor a child and how do I start?
$38 a month provides Christian nurture, nutritious food, basic medical care, a school uniform, and an education for one child. To begin, simply fill out and return the form attached to a child's profile. Don't have a profile? Please visit our website at www.internationalneeds.us/sponsorship to search for a child by age, gender, and country. You can start the sponsorship right through our website! Also, feel free to call our Sponsorship Department at (616) 209-5420 to start a sponsorship.
What is your most popular payment method?
Our Direct Giving program through ACH is a worry-free way to ensure that your sponsorship payment is always up to date. The plan is free for both sponsors and International Needs. It saves money on paper, processing, and postage. Simply return a voided check with the sponsorship sign-up card, or fill out the Direct Giving application form that will be sent to you with your beginning sponsorship packet.
How do child sponsorships fit with the vision, mission, and ministry of International Needs?
Your sponsorship provides for your child physically, educationally, and spiritually. International Needs staff share the Word of God with sponsored children and also bring the message of salvation in Jesus Christ to the families of sponsored children. The result of this can be entire families making a decision to follow Jesus Christ! Child sponsorships bring together the three International Needs focuses of evangelism, discipleship, and community development.
Is International Needs a missionary organization?
International Needs is a 501(c)(3) Christian ministry but is not a "sending" missionary organization. The International Needs ministry operates with the vision "to share the gospel by partnering with Christian nationals around the world." For example, the International Needs Ghana staff is made up of Ghanaian Christians who live in their own culture and environment and have hearts to share the Lord Jesus with their fellow Ghanaians. They have their own board of trustees, their own executive director, and their own staff in Ghana. In the same way, International Needs USA has a board of trustees, president, and staff of Christians from the USA.
In which countries does the International Needs have ministries?
International Needs USA supports ministry in the countries of Bangladesh, Colombia, Czech Republic, Egypt, Ethiopia, Ghana, India, Indonesia, Kenya, Nepal, Philippines, Romania, Slovakia, Sri Lanka, Turkey, Uganda, Vietnam, and Zambia.
International Needs ministry countries have different roles. Overseas partner countries evangelize, disciple, and do community development in their countries. The role of the USA is to encourage, equip, support, and pray for ministry partners overseas.
How is International Needs different from child sponsorship organizations?
International Needs' mission is to connect Christian partners in effective evangelism, discipleship, and community development. A core part of this mission is the International Needs church planter, who acts as the pathfinder.
The church planter evangelizes and prays for the people in his/her country and is uniquely positioned to see and respond to needs. In some cases, a village needs a school and sponsorships for children to attend that school. In other cases, a village needs a well so villagers have safe water to drink.
International Needs looks for ways to respond to needs and share the love of Jesus Christ while meeting those needs, and child sponsorships are an important part of the ministry.
How do I start a sponsorship?
Are you ready to change a child's life? Please visit our website at internationalneeds.us/children to choose a child or call our Sponsorship Department at (616) 209-5420 so they can get you started!