Thursdays, 9:30-11:30 a.m. and 6:30-8:30 p.m.
January 19-March 23, 2017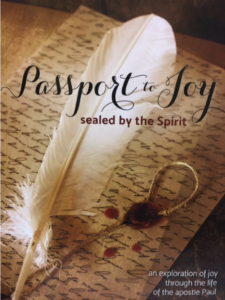 Have you ever wondered:
What is joy?
What allows me to know real joy?
How can I experience joy in the midst of life's difficulties?
Is there something wrong with me if I don't feel joyful?
Passport to Joy, sealed by the Spirit is a 10-week in-depth Bible study on true biblical joy using the apostle Paul's life as the framework for discovery. Together we will investigate joy from many angles, while honestly examining our current perspective on and experience of joy. Join us starting January 19 as we dig into Scripture and draw near to God, growing in the overflowing joy only He can provide.
This class will offer you weekly live lectures (with audio/video online), in-depth bible study, daily devotion material, tools for your spiritual practices of prayer, life map reflections, silence and solitude.
All of this is brought to you by three dedicated and gifted teachers from Woven, threads of truth for your life. For more detail on them see woventruth.org.

Morning sessions offers childcare upon request.
Evening session is for women and men. Childcare is not provided.
Please register below. Cost for class is $20
Please contact Christine for childcare at cmjoen@cclf.org. Cost is $10
Partial scholarships are available.
Save