GHANA MISSION TRIP
October 26 – November 4, 2017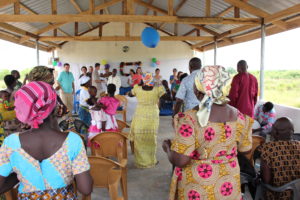 Where are we going? International Needs (IN) Headquarters, Accra, Ghana and the Adidome Training Center in Adidome, Ghana.
Who can go? Any adult member or regular attendee (at least one year at the time of trip training) of Christ Church who has a heart to serve God around the world and is currently involved in the ministry of the church.
What will we do? The team that is selected will join together to support IN in their ministry to the people of Ghana.  The trip will include numerous activities including seeing first-hand what God is doing among the people of the Volta Region, interacting with at-risk women at the Adidome Training Center, meeting your sponsored child (if you have one), attending a Jesus Film showing in a rural village and attending a village worship service.  This trip will focus on our partnership with the village of Kuve and working with the school children there in addition to seeing what God has next for Christ Church in Ghana.
Who is the leader? Laurie Dickinson.  Laurie is a member of Christ Church Highland Park and is married to Brad.  They have three adult children.  Laurie has been on the Global Outreach Board for three years and has had the privilege of going on two short-term trips to Turkey in 2014 and Ghana in 2015.  She works part-time as the volunteer coordinator for Stevenson High School and is looking forward to leading the fall trip to Ghana.
What are some of the trip logistics? We will be housed on the campus of the Adidome Training Center in comfortable rooms and served food in their dining room that is prepared for our western stomachs.  All activities, transportation and other logistics will be taken care by the staff of IN.  Modest summer clothing is all that is needed.  The flight will most likely be nonstop from JFK to Accra, Ghana.
How much will this cost? Approx. $3,000 per person, depending on the airfare. Fundraising instructions will be part of the pre-trip training.   A deposit of $300 (nonrefundable unless not selected for the team) is due with the application.
How do I apply? All instructions and forms are contained in the electronic application packet that will be sent to you upon request (see email addresses below). The deadline for applying is May 19, 2017.  Please mail your application, all completed forms and the deposit (checks made out to Christ Church) to Sharon Oxley at Christ Church Lake Forest or drop off at the front desk of the Lake Forest campus.
Who can answer my questions?  Laurie Dickinson at gilbertlake17@gmail.com or Sharon Oxley (Director of Global Outreach) at soxley19@gmail.com.
Save