Varghese, Suja, Mahima and Tejas
India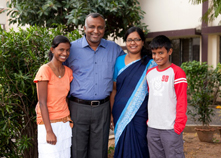 Varghese serves as one of the directors for Hindustan Bible Institute & College (HBI) and its ministries. HBI is committed to developing 100,000 leaders to reach its vision of seeing one church in every people group of every town, village and city in India. Through formal theological education, missions training, church planting, cross-cultural missionary training andnext-generation leader training, HBI develops transformational leaders to disciple the nations.
In addition to directing the department of spiritual formation and pastoral care at HBI, Varghese also serves as faculty and the head of department of practical theology in the seminary and is teaching pastor of New Calvary Church in Chennai, India.
Pray for them:
Pray for the Thomas family: For Varghese's health, for Suja's leadership of women in the church and for Mahima and Tejas in school, and that the Thomases will stay committed to their call and to God's leading
For the HBI Students: That they will be developed into godly and transformational leaders during their two to three years on campus
For the church: That they will see 10,000 first-generation Christians, 2,000 leaders, and 1,000 small groups by 2025
For the city of Chennai and for India: That there will be revival in all churches, that leaders of the church would be united and transformational, that there will be passionate and committed Christians in the marketplace, changing the heart of the nation, extending the kingdom of God in every sphere of the land.
Encourage Them:
Rev. Dr. Varghese Thomas
Hindustan Bible Institute & College
86-89 Medavakkam Tank Road
Kilpauk, Chennai 600010,
Tamilnadu, INDIA
Learn more: