Lake Forest, IL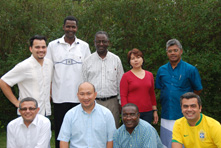 ScholarLeaders International provides encouragement and financial support to gifted leaders who impact the world with the love and teachings of Jesus Christ. Over the last 30 years, ScholarLeaders has invested in hundreds of men and women as they earned doctorates in theology and related disciplines. These graduates have returned to their homelands to teach others, form and direct important ministries, and guide educational institutions.
ScholarLeaders recently broadened its focus to include five programs designed to recognize and support scholars from across the globe, both during and after their formal education. ScholarLeaders programs also allow leaders to exchange ideas, experiences, counsel and encouragement.
Pray for them:
Pray for the leaders and their families as they complete their studies, return home and serve in capacities of senior leadership.
For the resources to be released to accomplish the mission and the stewardship of those resources as they're invested in strategic people and places.
Encourage them:
ScholarLeaders International
2780 Irma Lee Circle
Lake Forest, IL 60045
Learn more: